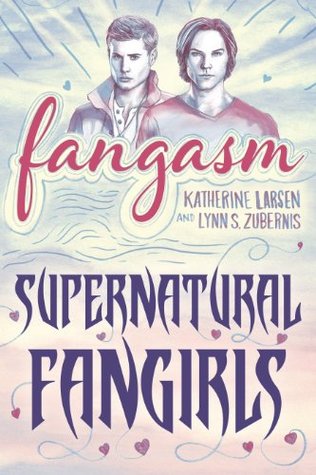 Once upon a time not long ago, two responsible college professors, Lynn the psychologist and Kathy the literary scholar, fell in love with the television show Supernatural and turned their oh-so-practical lives upside down. Plunging headlong into the hidden realms of fandom, they scoured the Internet for pictures of stars Jensen Ackles and Jared Padalecki and secretly penned racy fan fiction. And then they hit the road — criss-crossing the country, racking up frequent flyer miles with alarming ease, standing in convention lines at 4 AM.
They had white-knuckled encounters with overly zealous security guards one year and smiling invitations to the Supernatural set the next. Actors stripping in their trailers, fangirls sneaking onto film sets; drunken confessions, squeals of joy, tears of despair; wallets emptied and responsibilities left behind; intrigue and ecstasy and crushing disappointment — it's all here. And yet even as they revelled in their fandom, the authors were asking themselves whether it's okay to be a fan, especially for grown women with careers and kids. "Crazystalkerchicks" — that's what they heard from Supernatural crew members, security guards, airport immigration officials, even sometimes their fellow fans. But what Kathy and Lynn found was that most fans were very much like themselves: smart, capable women looking for something of their own that engages their brains and their libidos.
Fangasm pulls back the curtain on the secret worlds of fans and famous alike, revealing Supernatural behind the scenes and discovering just how much the cast and crew know about what the fans are up to. Anyone who's been tempted to throw off the constraints of respectability and indulge a secret passion — or hit the road with a best friend — will want to come along.
Amazon
| GoodReads | The Book Depository
I will always remember my precious first days in fandom. Like a little baby deer taking its first steps on ice, I joined a Sailor Moon forum when I was 12 and never looked back. Then I went on to Harry Potter, then Dead Like Me, and then a few years later, there was this massive buzz on LJ about a new US TV show called Supernatural. (According to this book, the buzz (particularly, the fan-fiction community) began before the series even aired its pilot, thanks to promotion at San Diego Comic Con one year prior.)
Even back then, I didn't get the hype. I eagerly bought the full box-set of season one on DVD just to see what all the fuss was about, and repeat viewings of this first series never filled me with the same enthusiasm that I was seeing all over LiveJournal and DeviantART. I mean… it was very, very formulaic. Season one has Sam and Dean driving to a small town, discovering there's a demon, and then finding a few locals there to help them. One of these characters will every now and again go directly against the advice given to him (i.e., stay in the fucking salt circle when you're told that there's a man-eating demon wandering around) and die. Of course, early on, there's many female characters that just get used as plot devices to motivate the main heroes or to act as the audience avatar who is just swept up in all this chaos and (usually) winds up dying. My best friend came over a few years ago and while we were watching this first season, she turned to me and said she was already formulating a drinking game in her head. We were two episodes in.
But, I'm fair and I always try to give shows the benefit of the doubt. ITV2 started airing Supernatural here in the UK, but I always found that they messed around the schedule a lot, and I never got to watch the series cohesively. I'd just take it as a little episodic TV show to watch before I went to bed, and several years later, I found out that it had been picked up by Sky, but by then I'd stopped watching it.
Anyway, enough of my time in fandom and how I don't really get Supernatural. I mean, I know different strokes for different folks applies, but the fandom was just everywhere and to this day, it's the second most popular fandom on Fanfiction.net (until the Gleeks came and knocked them off the top spot). So of course, with my interest and background in fandom, I read the synopsis on Net-Galley and thought this could be a really smart and interesting collection of essays, detailing not only a passion for the fandom, but also the reasons behind why women in particular become quite so attracted to fandom.
Larsen and Zubernis actually cite some really good psychological and sociological theories as to why fandoms are such a big thing with the advent of the Internet. Back in the days of Lord Byron, this meant sending dear old George enough fan-mail to crush an elephant. In the recent past, being a "fan" meant subscribing to a zine or getting a pen-pal and enthusing about the latest episode that was broadcast in your area, or collecting any scrap of merchandise or any mention of your favourite series in the media. For the past 15 years, forums, communities and social networks with dedicated fandom circles are just one click away, and this means that there are fans of just about any TV show, book series, comic, musician, cartoon, or movie that has ever existed. Humans are predisposed on an evolutionary level to try and socialise and fit in with any new group, and in the virtual world of fandom, you can find people of all sorts who will have a lot in common with you.
Yet fandom has always been demonised in some form or another. If the fandom is predominantly female, then there's a rather large chance that they'll all be tarred with the same brush — creepy, over-possessive, and prone to insisting that an actor or a character interpretation is "theirs". "Twilight moms" who idolised Taylor Lautner and Robert Pattinson were pretty soundly thrashed by the media, who quickly latched onto the question: "If these were males following around teenage actresses…! Double standard!"
Women are coming into fandom and staying there later and later into life. Society has another strange double standard where it's perfectly fine for men to express fandom by following their favourite football team around the country and painting themselves in the team colours, but women's hobbies are almost always viewed as being either unproductive or a tad on the creepy side, as we saw with the Twilight moms example.
Fanboys are no stranger to fan shame. But while male media fans fear being perceived as not being sexual enough, female fans seem fearful that being a fan makes them too sexual. [...] Fangirls aren't sedate, controlled or quiet – therefore, they must be crazy stalkers who can't tell the difference between fantasy and reality. Fan shame for female fans often seems inextricably linked with shame about sexuality. (p. 55)
Of course, the Supernatural fandom is quick to get rid of get rid of such misconceptions. People have been kicked out of the fandom at large for asking the actors about fan-fiction, and one 14 year old, desperate to get a hug from Jensen Ackles, knocked him to the floor of an elevator, then spent the rest of the weekend at the convention trying and failing to get back in, such was her devotion. (I'm guessing there's an obvious bias towards Jensen in this book, because the authors don't talk about Jared Padalecki or Misha Collins nearly as much.)
But for all the interesting psychological and sociological studies cited in why people get so ardently into fan communities, the writers themselves… let's just say that there are times where their behaviour comes across as really self-absorbed and the worst kind of fans. I mean, as a teenage fan, it's one thing to go to a play Jensen Ackles is starring in, and loudly gasp when he bends over, but when you're adult women and academics… Yeah. What about rearranging plans to stay in the city where Jensen is performing, just so you could perhaps get a glimpse or an autograph of him and Jared when he came to visit?
The most irritating thing I find is that there's all these huge expressions of fandom, with grown women running around like little kids who drank way too many fizzy drinks at a pop concert, which are then quickly dismissed with sentiments along the lines of: "Well, we knew that what we were doing was a little bit odd, but we couldn't seem to help ourselves!" Occasionally it would segue into an interesting point about why fandoms are so attractive on a social level, but the majority of the time it was just a few BNFs giggling about how much they enjoyed writing fics and analysis, whilst being completely blind to their families beginning to find their obsessions more than a bit, well, obsessive.
For what it's worth, the book is a decent read, but I would have preferred more research into fandom, rather than memoirs of being in the Supernatural fandom since its inception in 2005. This laid-back, giggly approach soured quickly when I realised these were adults with children who were shoving their personal lives to the wayside in favour of travelling to Comic Con and any other engagement involving the actors or producers of the show. I mean, I'm all for fandom, but I have actually met people who were around the same age as these ladies, and for whom fandom is their only crutch in life, and it's not really healthy. Like everything in life, there's got to be some form of moderation. Getting to the point where you're mentally beating yourself up for missing meeting one of the actors by a few minutes… I mean, really? (And I say this as somebody who cried after meeting J.K. Rowling.)
3.5/5