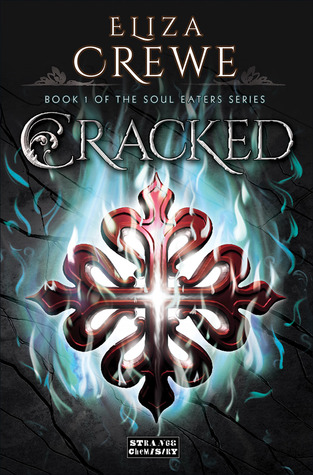 Meet Meda. She eats people.
Well, technically, she eats their soul. But she totally promises to only go for people who deserve it. She's special. It's not her fault she enjoys it. She can't help being a bad guy. Besides, what else can she do? Her mother was killed and it's not like there are any other "soul-eaters" around to show her how to be different. That is, until the three men in suits show up.
They can do what she can do. They're like her. Meda might finally have a chance to figure out what she is. The problem? They kind of want to kill her. Before they get the chance Meda is rescued by crusaders, members of an elite group dedicated to wiping out Meda's kind. This is her chance! Play along with the "good guys" and she'll finally figure out what, exactly, her 'kind' is.
Be careful what you wish for. Playing capture the flag with her mortal enemies, babysitting a teenage boy with a hero complex, and trying to keep one step ahead of a too-clever girl are bad enough. But the Hunger is gaining on her.
The more she learns, the worse it gets. And when Meda uncovers a shocking secret about her mother, her past, and her destiny… she may finally give into it.
Amazon
| GoodReads | The Book Depository
Yes! This is how you do a paranormal YA, guys.
No, seriously. I'm surprised at just how worth the hype this book was. So many of my friends on GoodReads adored this book. I was a little apprehensive going into it that I'd probably have little patience for Meda, or the storyline in general… But I came out absolutely adoring it, and I'm definitely going to check out the sequel.
Cracked's premise is, to be rather blunt, quite generic from the outset. [Character] is introduced to a secret society of demon hunters after a run-in with one of the unholy beings, and from there must learn about [their] destiny. Yes, there are some differences (if you've read the book) but that's the basic skeleton of the plot. And I'm amazed how Crewe was able to take it and just completely make it her own. She inserts perhaps the best POV character one could ever ask for: Meda. She's really funny, and wise-cracks at the best moments. Her inner monologue had me laughing so many times.
Worries are for people who can't pull grown men apart with their bare hands.
It's rather humanitarian of me, helping them to count their blessings. Appreciate what they have — like their heads. Too many people take them for granted.
Now, Meda is a monster and she makes no bones about that. She's super strong, super fast, and eats the souls of the wicked, but she's neither fully demon nor human.
After a run-in with some demons intent to claim her as their own, she falls under the protection of the Templars, an ancient order of Christian demon hunters who assume Meda is a "beacon", a soul born into the world to improve humanity, since they can't quite work out what she is on a spiritual level. Meda, appropriately, finds this hilarious, and just goes along with it until she realises that she's got a lot to learn about herself.
Jo, Chi and Uri are great characters to. I love how Jo is just a complete fire-spitter, and the narrative never seeks to demonise her for it. Her relationship with Chi is wonderful, although I do wish it hadn't resorted to the bit about disabled people getting upset about being such a burden on their partners. Jo has one leg in a brace, and while she's shown to be a really capable fighter and can protect herself, she does talk with Meda at one point about how she's harbouring a lot of anger deep within simply because doesn't feel like she can pursue her relationship with Chi because Templars always go fighting demons in pairs and she won't be able to keep up with him. :/ I mean, sure, it's better than the "WAH IF I'M DISABLED NO MAN WILL EVER WANT ME!!" histrionics in one of the Tiger's Curse books, but I wonder if it could have been handled just a little better. Otherwise, I do love Jo's character, and I was cheering for her and Chi by the end. The ship still sails!
Still, I have to commend this book for being such an enjoyable ride from start to finish. It could have been so generic with the whole 'secret society of demon hunters' premise, but it kept things fresh and original, and it's narrated by an awesome main character, so there's that!
4/5.