Dark Prince
That chapter title sounds like some kind of ridiculous Harry Potter fanfic title to me, but who cares? Jake Thorn is finally here and we're breaking free of the tedium that is Bethany and Xavier's relationship! At least, for the moment… :(
Even though it was my most interesting class by a long shot, I wasn't in the mood for Lit. I wanted to spend more time with Xavier; to be separated from him always gave me physical pain, like a cramp in my chest.
I'd see a doctor about that, Bethany.
"Nope," Xavier said, prying away my fingers that were now clutching his shirtsleeve. "You're going to be on time."
"You've turned into such a grandma," I grumbled. He ignored my comment and deposited my books into my arms. These days, he rarely allowed me to carry anything for longer than was necessary. I must have looked so lazy to everyone else, always walking around with Xavier by my side, dutifully carrying my belongings.
Sounds like Xavier's doing the whole i'm a nice, classy fedora-clad gentleman who always finishes last m'lady schtick. Ew.
Anyway, Bethany and Xavier snog near the lockers and make each other late for class. Bethany trundles on in to her Literature classroom.
" [...] Together you'll need to come up with a poem to read to the class on the subject of love, to preface our upcoming study of the great Romantic poets Wordsworth, Shelley, Keats and Byron."
Where the hell is the colon between the word 'poets' and 'Wordsworth'? Also, why are you studying only male Romantic poets? Women made a HUGE impact in that field, don't try and tell me Wordsworth was somehow more important than this entire list of awesome ladies because he once stole a boat and felt as if the mountain behind the lake was somehow judging him, or because he sat atop a hill and wrote about nature. Like I said previously, a lot of male Romantic poets fell over themselves to visit female poets of their era! Samuel Taylor Coleridge walked forty miles to visit Anna Letitia Barbauld at her Bristol residence. Percy Bysshe Shelley was respectful of his wife's writing. Also, 3/4 of your teaching list, Miss Castle, is the second wave of Romantic poets. You should study the first wave more deeply, since it's the progenitor of the entire movement and all that.
Miss Castle asks if anybody has a favourite poem that they'd like to share.
"I do," said a well-spoken voice from the back of the room.
Well-spoken? What, because he has a British accent? As opposed to those utterly unintelligible Canadians and Americans and every other English speaker who wasn't born/raised in the British Isles?
I scanned the faces to identify the speaker who had a distinct English accent.
Well, it's great that Jake speaks in posh Queen's English, I guess. Imagine if he'd had an unintelligible farmer-from-Hot-Fuzz accent!
Brave of him, I thought, to go out on a limb on his first day. Either that or he was enormously conceited.
Yeah, Bethany, keep being snotty and judgemental like that and see if that attitude gets you anywhere.
He was tall and lean, and his straight dark hair reached his shoulders. His cheekbones were sharp, giving him a gaunt, hollow look. His nose drooped slightly at the tip, and his brilliant jade-green eyes gazed out from beneath low-set brows. His lips curled in a permanent sneer. It made him look intolerant of his surroundings.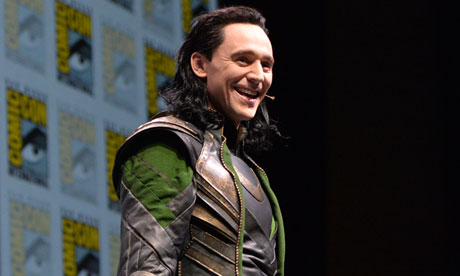 Oh god we're dealing with Tom Hiddleston!Loki. Am I supposed to be rooting for Jake Thorn or not? Because currently I'm tolerating the presence of two kids from The OC versus a character who is actually interesting.
He was dressed in black jeans and a black T-shirt, and a dark tattoo of a serpent wound around his forearm.
A Catholic school allowing somebody to have their tattoos on display? Highly unlikely. Also, why does he have a Dark Mark?
So, what's the poem that dear old Jacob is going to recite?
"'Annabel Lee,' a ballad by Edgar Allan Poe," he announced smoothly. "It might interest you to know that Poe married his 13 year old cousin, Virginia, when he was twenty-seven. She died two years later from TB."
I feel like booking a flight to Baltimore just so I can apologise to Edgar Allen Poe's gravestone.
When he began to speak, his voice seemed to flow out like rich syrup and filled the room.
No, his voice was syrupy and perhaps charismatic. His voice itself didn't turn into syrup and wind up filling the room. Bad simile! Bad!
So now, taking up a chunk of the chapter, is the actual public domain poem of Annabel Lee. I know these poems are nice to include, but they are so unnecessary 99% of the time. Take note, Colleen Houck.
"Want to be partners?" He purred. "I hear you're new as well."
"I've been here for a while now," I said, not appreciating the comparison.
Wow, you're a judgemental little snot, Bethany. I mean, it's amazing how Adornetto can take angels — who are portrayed as so compassionate, especially Bethany, who's supposed to be more empathetic to humans — and make them so two-faced. What was that "I'm pure goodness — I'm so clean I squeak!" spiel, then? Is it only given to people who are deemed 'normal' by society? Normal like Xavier? Ugh.
"I'm Jake Thorn," he said, looking at me with his hooded, dark eyes. He held out a hand, the epitome of good manners.
"Bethany Church," I replied, gingerly proffering my own hand.
Instead of shaking it, as I had expected, he turned it over and brought it to his lips in a ridiculous gesture of gallantry. "Delighted to make your acquaintance." I nearly laughed outright. Did he expect me to take him seriously? Where did he think he was?
Right, so Adornetto thinks the ideal teenage boy is somebody chivalrous, like Edward Cullen. Men who are polite enough to open doors for women, make sure they meet her father, and would throw their jacket over a puddle so that their girlfriend wouldn't have to get her feet wet. Something like that. Xavier meets Bethany's 'parents,' opens car doors for her, makes sure she's taken care of, etc. But when Jake is doing the exact same sort of thing – an ancient display of chivalry, that may look awkward nowadays but is still practiced and considered very respectful, it's suddenly something to be ridiculed.
I would have laughed had I not found myself looking into his eyes. They were dark green with a burning intensity.
I could swear that "don't describe a character's eyes" is one of the fundamental no-nos of creative writing. I mean, you're staring into somebody's eyes — that's weird direct eye contact. It might just be me, but meh.
He wore a silver pendant around his neck.
Okay, so we're not dealing with Tom Hiddleston's version of Loki. We're dealing with Gary King from The World's End.
Yeah, threatening.
Plus, the way Jake Thorn speaks, he's just as verbose as Gary King, but has just as little to say as he does. So I'm calling it, Jake Thorn is an expy of Gary King.
[...] A half moon etched with strange symbols.
A half moon as in this? Or do you mean a crescent moon? Because OHHH MY GOD PAGANS ARE TEH EVULZZZZ.
"So," he said. "Any thoughts?" I stared at him blankly.
"For the poem," he reminded me with a raised eyebrow.
"You start," I replied. "I'm still thinking."
"Very well," he said. "Any preference for particular metaphors?"
(Gif warning.)
I just have the mental image of Augustus Waters dashing in all like: "DID SOMEBODY SAY METAPHORS?" (And yes, I know that joke's old, but it's funny, so hey.)
He laughed at some private joke. "I'm partial to reptiles myself."
How utterly stereotypical and boring. And OBVIOUS AS ALL FUCK. Bethany has a bad feeling about this guy, he has a dark snake tattoo (as opposed to the golden snake tattoo Ivy has), and he is partial to reptiles. For those of you not following, the devil TAKES THE FORM OF A SNAKE TO TEMPT EVE OUT OF PARADISE in the Bible, and here we are today. Want to make it more obvious? Make him have a pet boa constrictor that he drapes over his shoulders like Alice Cooper. Make him wear snakeskin shoes, pants and a snake-leather jacket. Give him a forked tongue. Slits in his pupils like the most obvious of anime villains. Make his nose look like a snake's. Give him a giant snake that eats people. Make him a walking, talking snake person. Subtlety, what's that?
Bethany asks Jake why he likes reptiles and he replies that it's because they're "tough-skinned and cold-blooded." Uh huh.
He turned away from me suddenly and scrawled a note on a scrap of paper, scrunched it into a ball, and flicked it at the two goth girls, Alicia and Alexandra.
Alexandra… as in Adornetto, as a Goth. *snort* Also I love how the obvious demon guy is gravitating towards the goth girls. Since Goths are clearly UNGODLY and OBSESSED WITH DEATH AND MISERY and need salvation, am I right?
"Ah, there's a boyfriend? How wholesome." Jake smiled.
I get the feeling that Jake actually knows that Bethany is an angel and is just trolling her for shits and giggles. Bethany being 'wholesome' despite angels not being supposed to love humanity enough to settle down with boyfriends and girlfriends and other partners? High five, Jake. High five.
"Not that I'm surprised. Of course you have a boyfriend — with a face like that. Who's the lucky guy?"
"Xavier Woods," I said, embarrassed by his compliment.
"Will he be joining the priesthood any time soon?"
Pahaha wait I don't get it. Since when does Xavier = holy name that assures you're going to become a priest? I mean, sure it sounds Biblical enough, but… eh. Also, Xavier should join the priesthood. According to Catholic rules, he has to remain celibate and can't raise a family. That would be an interesting angle, actually. What if Xavier really was attending a seminary and Bethany as an angel working in the same town. They both fell in love with each other through some meeting, thus realising their love was mutually forbidden?
Sigh.
I scowled at him. "It's a beautiful name," I said defensively. "It means light. Haven't you ever heard of Saint Francis Xavier?"
No, Bethany, I have not. Not every branch of Christianity expects its adherents to know about every single saint who has ever been canonised.
Jake grinned. "Wasn't he the one that went psycho and moved into a cave."
Ableist language, wahey. Also, WHERE THE HELL IS THE QUESTION MARK IN THAT SENTENCE?? IT'S A QUESTION! Was this edited? At all?
"Actually I think it was more of a conscious decision to live simply," I corrected.
Saint Francis Xavier actually lived in a grotto for a few years during a mission in Manapad, India, according to what I've Googled. For a second I thought Jake was referring to Saint Francis of Assisi, who is more famous for living in a cave and shares the same first name, I guess.
When Jake asks Bethany what people are like around here, she's saved by the bell, 'eager to go and meet Xavier.' You know why? Being near a demon (well, unknowingly) has made Bethany feel like she needs Xavier to hold her. Yes, the insignificant human who can offer you emotional security… versus the incredible powers you have as an angel. Can't angels repel demons in some way? Like, at all? I'm fairly certain they can. So why is Bethany whimpering back to Xavier?
So, following a hug where Bethany 'clings to him like a limpet' (lovely imagery there, you're comparing yourself to a fucking barnacle), Xavier walks Bethany to his car to drive her home.
[...] He opened the door for me. I wasn't sure what he thought might happen if I was permitted to open my own door. Maybe he was worried it would fly off its hinges and flatten me or I might sprain my wrist trying to open it. Or maybe he was just brought up with good old-fashioned manners.
Good old-fashioned manners that basically imply that a woman is too weak to do things for herself. *sigh* I feel like I need to apologise to all historical feminist pioneers…. For everything you accomplished, and for the society that we live in today, pap like this that asserts male authority over women being taught to young girls as the ideal, is still able to be published.
Xavier slowly edges out of the parking lot, because apparently he drives like Bethany is some precious piece of cargo. But then, out of nowhere, a black motorcycle cuts across them and nearly causes an accident.
*snort* Jake (because it so obviously is Jake) drives a black motorcycle. As if to drive home the point that he really is bad, yo. Am I supposed to be going "oh no, he's such a bad guy!" or something? Because I'm not. I'm currently shaking my fist at the sky for Bethany and Xavier not being involved in a horrible car crash where Jake was the only survivor. Jake gets to take over the narrative, and uses his demonic powers to drag this little town down and all the shmucks who inhabit it into a hell-mouth, never to be seen again. PUNK'D!
"If I ever find out who that was, so help me God, I'll introduce his head to a pole."
"It was hard to see his face under the helmet," I said quietly. 
"We'll find out soon enough," Xavier growled. "You don't see too many Yamaha V Star 250s around here."
"How do you know the bike model?" I asked.
"I'm a boy. We like engines."
Oh, the Alexandra Adornetto drinking game… Take a whole shot every time Adornetto asserts that pink is for girls and blue is for boys, or something to that effect. You know, like how she says (through Bethany as her mouth-piece) that boys shouldn't wear make-up and that girls are bad at science, but better at English than boys. You'll be tipsy within several pages of Heaven.
Xavier and Bethany make their way home (sadly without Jake Thorn tailgating them and trying to get the car to crash into a ditch) and settle down to do homework. Riveting.
In truth, the homework I had been assigned and the grades I would be awarded for my effort, didn't interest me in the slightest. The things I wanted to learn didn't come from textbooks; they came from experiences and interactions.
THEN WHY THE FUCK ARE YOU ATTENDING SCHOOL??? WHY!? FUCKING WHY!? THIS WHOLE BLOODY BOOK MAKES NO SENSE! EVEN IF YOU'RE SUPPOSED TO BE INFLUENCING YOUNG MINDS INTO RECONNECTING WITH THEIR SPIRITUALITY, TEAM UP WITH IVY OR SOMETHING AND DO FUCKING VOLUNTEERING IN TOWN! SAY YOU'RE HOME-SCHOOLED IF ANYBODY ASKS, JUST GET BACK TO WHAT'S FUCKING IMPORTANT AND DO YOUR BLOODY JOB AS AN ANGEL FOR GOD'S SAKE! BUT OH NO, WE'VE GOT TO APE TWILIGHT IN EVERY SINGLE GODDAMN YOUNG ADULT PARANORMAL ROMANCE AND MAKE IT SO THAT THE TWO LOVE INTERESTS MEET IN A SCHOOL SETTING OR SOME SHIT RATHER THAN COMING UP WITH ANYTHING INTERESTING OF OUR OWN.
If I could pick fictional characters I would quite happily strap onto a rocket that was destined towards the sun and couldn't be taken off autopilot, Bethany Church would be one of them. So too would Xavier. And Mayor Prentiss from Chaos Walking (a MUCH better book series, by the way), but that's another matter.
This sodding book is draining my life force, guys.
Xavier put down his own pen and looked at me quizzically. "[...] What is the independent variable in the Stanford Prison Experiment?"
Wow, for somebody who's supposed to be good at science, you have to ask Bethany what an independent variable in an experiment is? Plus, the Stanford Prison Experiment is complete pigswill. The participants were paid, and looking to impress the professor who was running it.
"Yawn," I said. "I'm afraid some of us aren't blessed with divine knowledge." I sighed. "I can't believe that stuff really interests you?"
THAT IS NOT A QUESTION WHY IS THERE A QUESTION MARK THERE.
He had just completed his third trig problem when I felt his hand wander over to my lap. I slapped it gently.
Ooh, naughty. Not.
He smiled and scrawled something at the bottom of the answer sheet. The solution now read:
Find x if (x) = 2sin3x, over the domain -2π < x < 2π
Ta da. (Thank you, Wolfram Alpha.)
"Stop goofing around!" I said.
"I'm not! I'm stating a truth. You're my solution to everything," Xavier replied. "The end result is always you. X always equals Beth."
(Gif warning.)
STOP WITH ALL THE CHEESE I CAN ONLY TAKE SO MUCH FULL FAT PROTEIN IN ONE SITTING!!
This book is going to be the death of me. Sob.